Mileseva Monastery – Kamena Gora
Mileševa Monastery was built between 1218 and 1219, and frescos were painted from 1222 to 1228. It was founded by king Vladislav, son of the king Stefan Provovencani (eng. First-Crowned), and grandson of Nemanja. Vladislav built Mileševa to be his legacy and a place where he would be buried.

One of the most famous frescoes in the Monastery Mileševa is "White Angel". It is consideredas one of the most beautiful works of Serbian and European medieval art.

The medieval city Mileševac, situated on the very beginning of the canyon of the river Mileševka – represents a very well preserved and significant natural area, a haven for many rare and old species. The name Kamena Gora (eng. Stone Mountain) was given after the landscape in which it is located – a forest on a rocky mountain, i.e. "a mountain on a stone". The oldest inhabitant of Kamena Gora is an old pine that was estimated to be 400 years old.

As a guest of our apartments you'll get 20% discount on this and any other excursions that we organize. Contact us and find out more about the promotional offers we've prepared for you.

PLAN AND PROGRAM OF EXCURSIONS:
Departure at 9h

Coffee break at Zlatar

The planned arrival is about 11:30h at the Mileševo Monastery

Continuation of the road to Stone Mountain.

A visit to the Stone Mountain and the famous Holy Pine, over 400 years old, over 13m high

Lunch break or coffee break

Return to Zlatibor around 17h.
- Price per person 1650 RSD / children up to 10 years 1000 RSD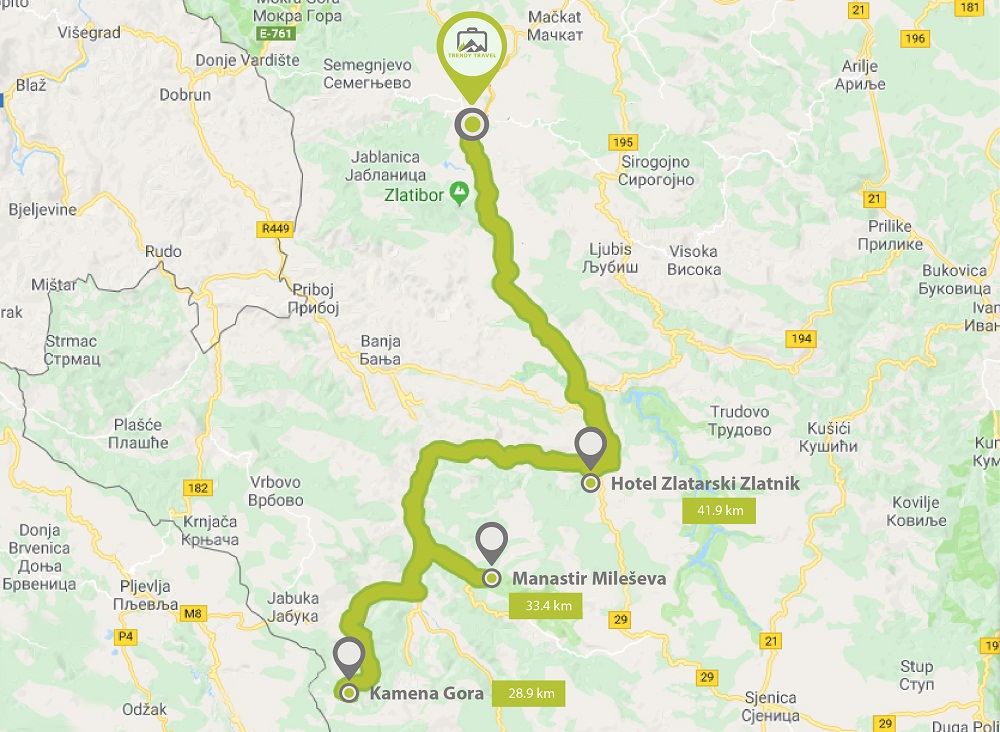 Note:
The minimum number of passengers required for an excursion by van is 5, by minibus 15, by bus 35.

The final deadline for cancellation is one day before departure.

The full payment (100%) at the time of booking.
Included in the price:
Transfer by new, comfortable

bus / minibus

to the mentioned route

Tour guide services

Travel organization costs
Not included in the price:
Individual passengers' expenses
See more: